JFE BallastAce®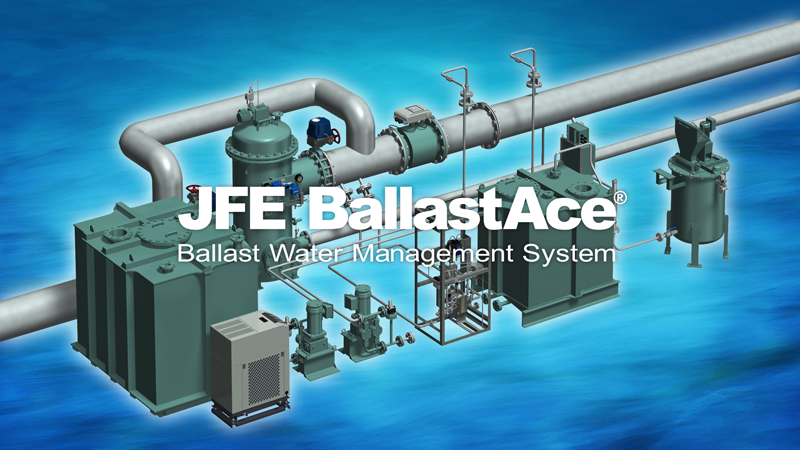 Simple System Configuration

Flexible layout
Extremely low power consumption, low impact on generators.
Fewer driven parts minimizes the risk of mechanical failure. Easy to operate and maintain.

Chemical Agents

Chlorine treatment is a reliable technology that has been applied in water treatment for over 100 years.
Neutralization before discharge
Fully automated chemical injection

Why Formulated Chemical?

No need for a complex generator onboard
Efficient sterilization regardless of turbidity, salinity, or temperature.
Capable of meeting current strict standards and expected tightened regulations.
Design Philosophy
Various methods exist for treating ballast water, such as formulated chemical injection, seawater electrolysis, ultraviolet rays, and deoxygenation by nitrogen. Since the original development of the system, we have been constantly striving to ensure its suitability – being on board ships and cooperating with shipping companies from the very beginning. As a result, we have developed a unique system that can balance a high level of treatment performance while minimizing environmental impacts by adopting a combined treatment method using filters and formulated chemicals; a system that can be mounted onboard even those ships with numerous restrictions, such as limited installation spaces and electric power capacities. The performance features of the treatment are (1) to filter out as many organisms as possible and return them to the original habitat area with the backwash function, (2) to treat the ballast water with a minimal amount of disinfectant, and (3) to reduce the residual oxidants with neutralizer before discharging the treated ballast water.
The filters have been adapted to treat a large amount of seawater by applying the technology used for lubricating oil filters for marine engines. The filter removes large plankton that is tolerant to disinfectant, and even if plankton passes through the filter meshes, the filter is likely to damage their body and lower their tolerance. The amount of disinfectant injected in a later process, which disinfects the plankton and bacteria that passed through the filter, can be significantly reduced compared with other systems that use chemicals alone without filters. In this way, the combination of the filter and an optimum amount of formulated chemical has made it possible to minimize the environmental impact of the chemical while complying with the treatment standard (D2 standard) specified by the IMO.
Furthermore, the system software (amount of chemical injection, a precise configuration of chemical injection sequence during ballasting operation and holding time until the neutralizing treatment) has flexibility of adjusting the system capability in proportion to the environment; hence it is possible to comply with the treatment standards that are expected to become even stricter in the future.
Chemical
JFE BallastAce® adopted Sodium Hypochlorite (NaClO) as Liquid disinfectant (TG Ballastcleaner®). Sodium Hypochlorite is well-established and commonly used for disinfection of tap water, swimming pools, purifying vegetables and so on.
When discharging the ballast water, the neutralizer (TG Environmentalguard®), consisting mainly of sodium sulfite (Na2SO3), is used to reduce the residual chlorine. As a result, the treated water meeting the discharging standard is discharged during De-Ballasting. This neutralizer is highly versatile and widely used as a food-related antioxidant.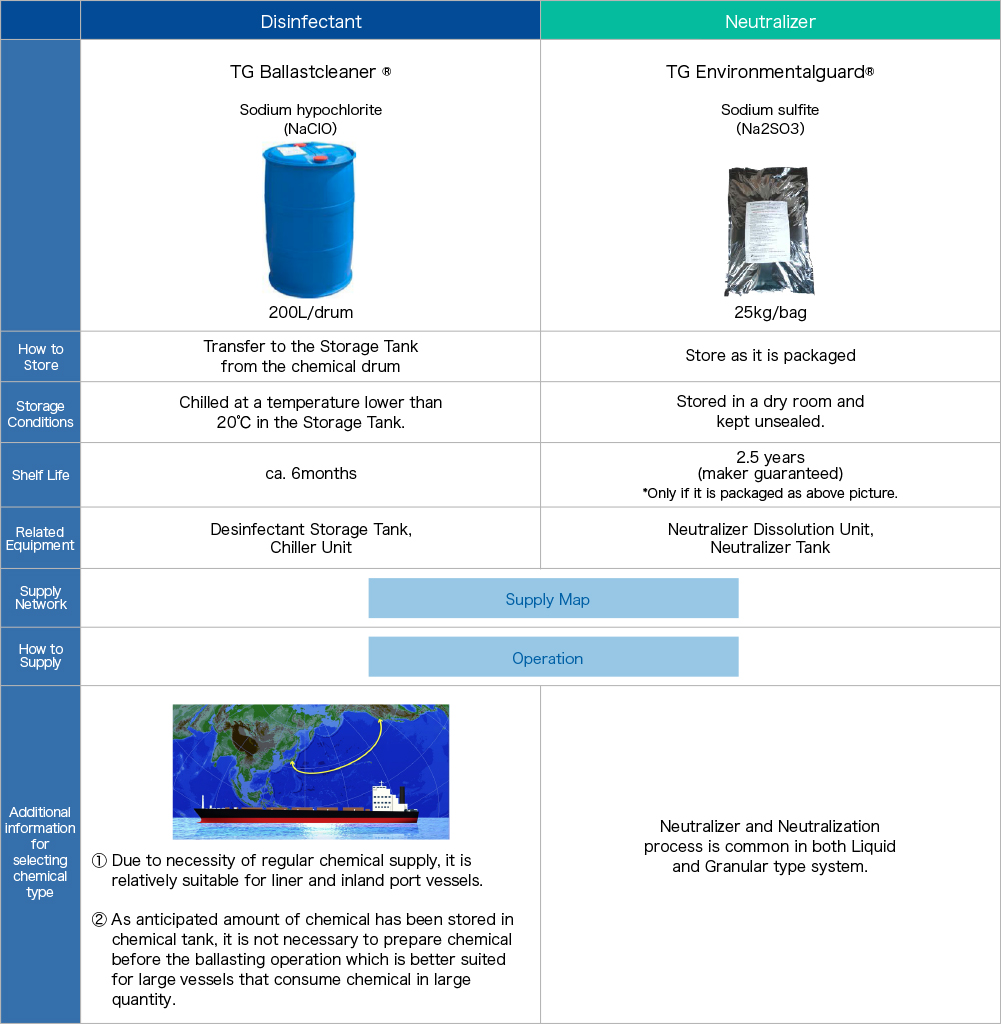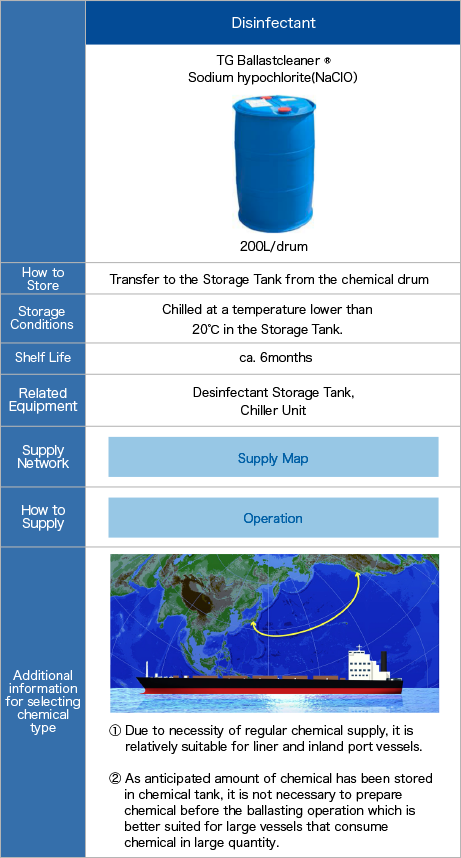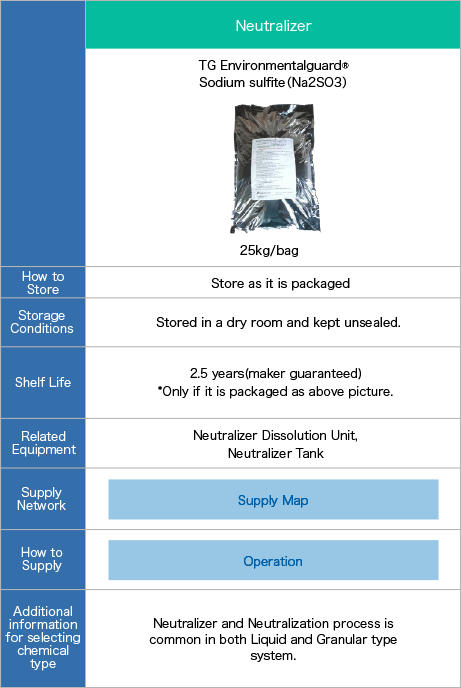 Layout
JFE BallastAce® individual components can be installed separately(*). Adaptations or creations of large spaces onboard are not necessary for JFE BallastAce®.
(*) Please follow the Installation Guidelines of the Technical Guide.

Filter

Chemical Injection and agitation
Explosion-Proof
JFE BallastAce® has an extensive lineup of explosion-proof (Ex-P) type equipment which can be used even in Zone 1 hazardous areas.
System configuration (explosion-proof)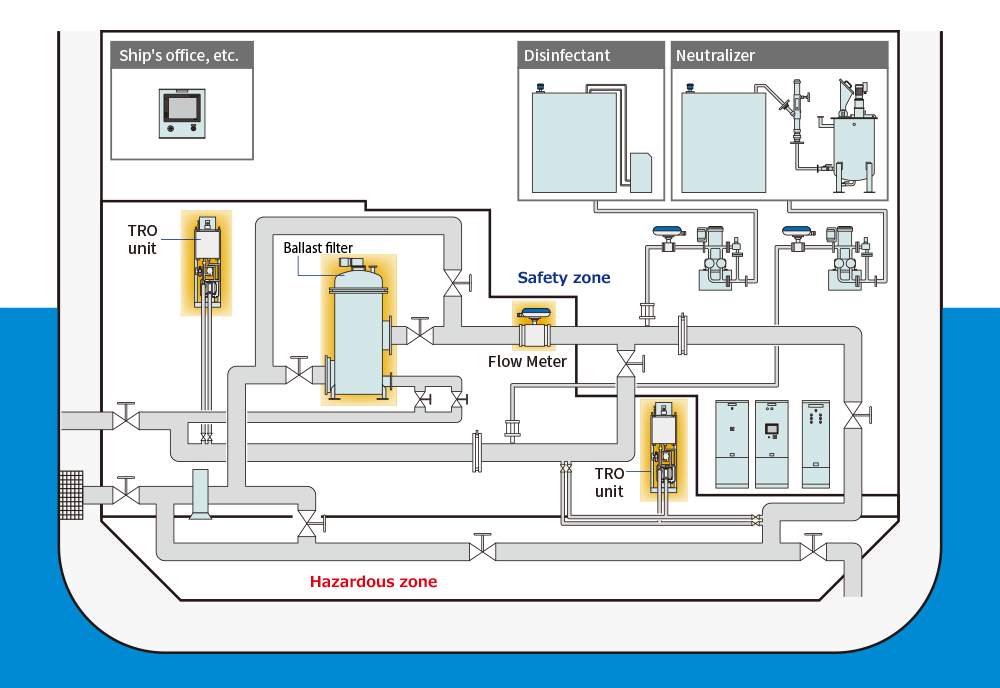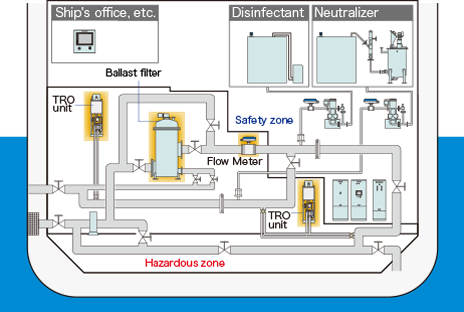 Reference List
Since the first commercial system was installed in 2010, JFE BallastAce® has been the chosen BWMS for over 700 vessels from Japan and across the world. JFE has experience with a great variety of ship types, such as ore carriers, bulk carriers, crude oil tankers, chemical tankers, LPG carriers, chip carriers, container vessels, PCCs, and more.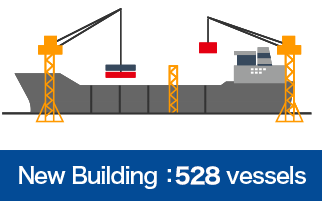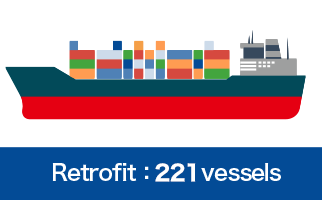 (as of Mar2022)